Skip to Content
Customize Your Garage
GEIS Building Products understands that residents of the greater Milwaukee area deserve only the best in garage openers and accessories. We use and trust Liftmaster as they are the world's number one installed garage door opener. They are designed to move the largest door in your home safely and securely, and we always put safety first. All the openers we offer are available in different models and power ratings for almost any application. To schedule your consultation, get a quote, or install your new garage opener, don't think twice. Call us today.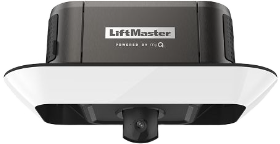 Garage Openers and Accessories We Offer
A commercial or residential garage door opener is an essential tool used almost daily for any home or business. Most openers work reliably for multiple years, but when they malfunction or starts to show their age, it's time to upgrade. We offer several different models and powers to best fit your needs. Here is a better look at the garage openers and accessories that we install and repair.
Our Recommended Residential Garage Openers
Whether you're building a new home or looking to replace an existing garage door opener, one of the most important aspects is finding the right opener for your needs. Our technicians can help you choose the right garage door opener to fit your needs and the environment. Most of our garage openers can be monitored and controlled with the myQ smart home smartphone application. MyQ allows you to get real-time notifications, and depending on the model you choose, you get access to live-streaming video and video history. If you have questions regarding the myQ application or need assistance, don't hesitate to view their website. Here are some of the residential garage openers we recommend:
Belt Drive
The belt drive system is the ultimate, quietly operating opener on the market. This heavy-duty belt drive is as tough as steel and delivers smooth-running power and performance for multiple years. These are excellent for homes with living space above or next to the garage.
Chain Drive
Chain-driven garage openers are the most common openers on the market. We offer a variety of chain drive openers. They are durable, reliable, and provide long-lasting performance.
Residential Jackshaft
This opener mounts to the wall next to the door, is designed to free up ceiling space, and comes with an optional power standby system that can work in the event of a power outage.
Our Recommended Commercial Garage Openers
Our team understands how important it is to find the right commercial garage opener that will meet the needs of your commercial or industrial site. We'll work with you to help determine which garage opener best suits your stringent requirements. Here are some of our recommended commercial garage openers:
Universal Remote Control
Everyone's lost a remote at some point. The universal remote controls we offer can operate up to two brands simultaneously.
Universal Keyless Entry
Our universal keyless entry is designed to work with various brands, providing convenience and secure access to your garage and home.
Take Advantage of Our Team of Experts
Regardless of your needs, our highly trained expert technicians are standing by to help. We'll ensure your new garage door opener or accessory is installed quickly and efficiently the first time. GEIS Building Products takes pride in providing quality products and services to builders, homeowners, remodelers, and do-it-yourselfers. We offer the largest selection of products and services in town. If you're ready to upgrade your garage, Contact us today for a free at-home quote.
Garage Door Broken? Don't Think Twice. Call GEIS!