Skip to Content
Milwaukee's Leading Garage and Home Shelving Suppliers
GEIS Building Products strives to provide residents in the greater Milwaukee area with a better solution to organize and maximize the space available in their homes. We have partnered with Organized Living to provide the best home shelving solutions. Our shelving solutions include cabinets, slat walls, and melamine shelves. Our options are designed to minimize clutter and allow you to create the perfect storage solutions for your home and garage. Each of our storage units is installed and engineered by our professional team. To learn more about how our shelving units can help you stay organized, give us a call. One of our knowledgeable representatives will discuss your needs and how we can meet them.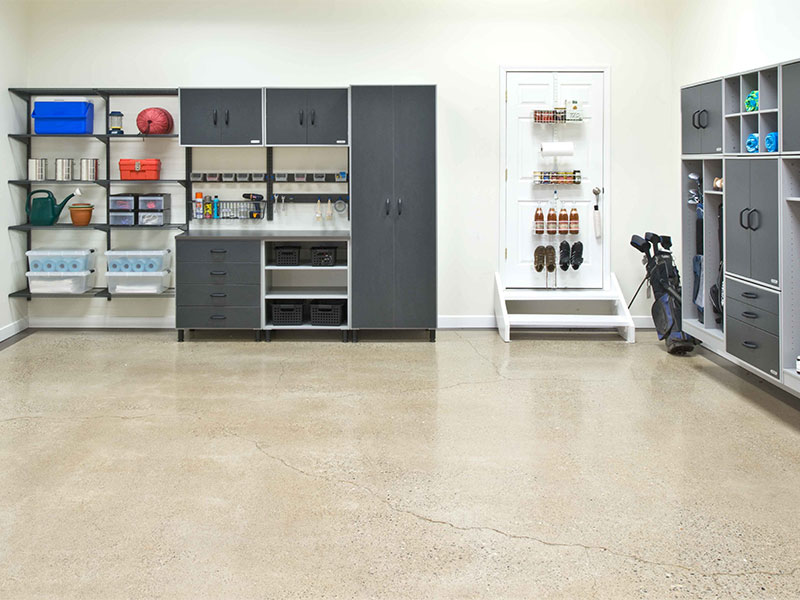 Take Advantage of Our Garage Shelving Services
Take control of your garage with our shelving solutions. We offer a wide variety of options designed to best fit your lifestyle. We've partnered with Organized Living to provide our customers with top-rated shelving options. One of our design experts will work with you to help you choose the best shelving unit for your space. Here is a list of our garage shelving solutions.
Melamine Shelving
A robust and durable shelving material that makes for a great, long-lasting option.
Freedom Rail
A completely adjustable storage system that offers flexibility and ease when changing components to fit your lifestyle better. All updates and changes can be done without tools.
Wire
Our wire shelving comes in various sizes and colors and is easily customized to best fit your space.
Slat Wall
This shelving solution installs slats onto your garage wall, allowing you to slide in shelves or hooks. You have total freedom to arrange, organize, and rearrange your organization system whenever you need to.
Benefits of Home Shelving Systems
The proper storage system will transform how your home looks and how you use it. We've compiled a list of some of the best benefits of installing and utilizing one of our home shelving solutions. If you have any questions after reading this list, don't hesitate to reach out. We'll be happy to answer any questions you may have. Below are some of the benefits of installing and using one of our shelving systems.
Save Space
Not only will a shelving system save you space, but it'll also help remove clutter from the corners and floor of your home. You'll be able to easily and quickly find and stow away your items.
Enhanced Convenience
Our storage racks are convenient because they can be set up quickly and, depending on your choice, moved around as much as you need.
Keep Everything Organized
It's much easier to stay organized when you have plenty of shelving space.
Makes Your Garage Safer
More often than not, a messy garage is also an unsafe garage. A garage floor littered with items also risks damage to your vehicle or yourself. You'll be able to store dangerous chemicals and tools away to ensure everything in your home is safe.
Maximize Space in Your Home
Our team knows storage, and we'll combine our expertise with recent innovations to create solutions that meet and exceed your needs. We've partnered with Organized Living to provide our customers with only the best. Regardless of your garage's size and shape, our highly trained professionals can engineer shelving units to ensure your space is organized to fit your needs. To learn how we can help you or to schedule your consultation today. Don't think twice, call us.
Garage Door Broken? Don't Think Twice. Call GEIS!